On the first day of a two-day strike, local BT and Openreach staff joined the picket lines in Dorset. With a second day of striking to follow on Monday, BT Group staff and members of the Communication Workers Union (CWU) are today protesting for their right to a fair pay increase.
This industrial action follows the BT Group's announcement on Thursday that they had recorded their first revenue growth in five years: increasing by 1% to £5.1bn for the three months preceding June 30. Alongside the company's proposed 22% increase in fees, CWU General Secretary Dave Ward has said that "enough's enough":
Our members are taking strike action after delivering a massive 'yes" vote […] The reason for that is that they're desperate for a substantial pay rise to protect them against the cost of living crisis […] BT Group are now gaslighting our members. Announcing hundreds of millions of pounds in profit on the eve of the first national strike since 1987 smacks of arrogance and complete contempt for frontline workers.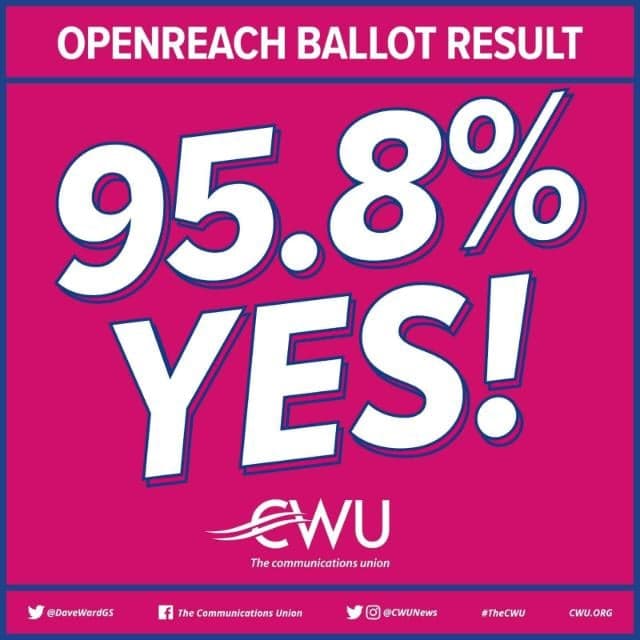 Against such rhetoric and the current industrial action, the telecom group's chief, Philip Jansen, has insisted that there will be no change to the current pay review offered to BT's frontline staff. Claiming the £1,500 pay deal as "history", Jansen reiterated his views of the strikes as unimpactful: "There will be no winners from this action". Despite this flat pay award arriving as the company's largest in over 20 years, it does little to minimise the deepening financial troubles evident across Britain's workforce.
This latest bout of industrial action joins a rallying cry of the millions of British public and private sector workers suffering the costs of soaring inflation. Over 40,000 BT staff are expected to be participating in this two-day strike, with Jansen's claim of "I wish I could do more" echoing emptily next to his personal pay rise of 32% to £3.5m over the last financial year. A disparity of economic circumstances echoed in the words of Ward:
Workers at BT Group will never accept their bosses using Swiss banks while they use food banks. They deserve a proper pay rise, like all workers do.
Reflecting on the first day of strikes, the CWU reiterated their position that enough simply is enough:
Today's strike has been nothing short of rock solid. In every town and city, BT Group employees manned over 400 picket lines, showing their opposition to a management that doesn't seem to care about them. Today's strike should be a wake-up call to Philip Jansen and BT Group that workers in this country will not sit idly by and watch their living standards crumble. The public is fed up at the level of corporate greed in this country today, and our members will be out again on Monday to tell BT Group that enough is enough.

CWU Spokesperson
As such, BT Group workers and external telecoms staff wait to see if their actions will have any meaningful ramifications. Much like the rail strikes, people are speaking up – the question is, will they be heard?