Kallum Gethins, the Managing Director for Dorset News has been out on patrol with the Street Pastors in Weymouth to have an insight into their work in helping vulnerable people out in town.
I arrived at Safe Space where the Street Pastors are based at 9.30 pm and inside they were fully equipped with KitKats, Lollipops, Flip-Flops and Sanitary Products to help tackle anything that may arise on the streets of Weymouth and to help vulnerable people and dogs!
The volunteer group have operated since 2008 and currently, St Mary's Church is where they are based.
The group coordinator is Andrew Reid who has previously spent a significant time in the forces. He spoke of his experience with the Street Pastors and said:
"We operate every Friday and Saturday night and walk around the town assisting those in need, we carry flip-flops to those walking around barefoot as broken glass can lay around on the floor and could cause some nasty wounds."
He added: " We look after the door staff and give them KitKats or Lollipops to help keep a good relationship between ourselves" he then added: " we've got to have females with us aswell to allow an appropriate method of dealing with people in difficult situations to avoid any misjudgment."
We first started our patrol at 10:30 pm and went down St. Edmund Street where the group had found broken glass laying on the floor and promptly swept it up with a dustpan and brush which the Street Pastors carry around in their bags.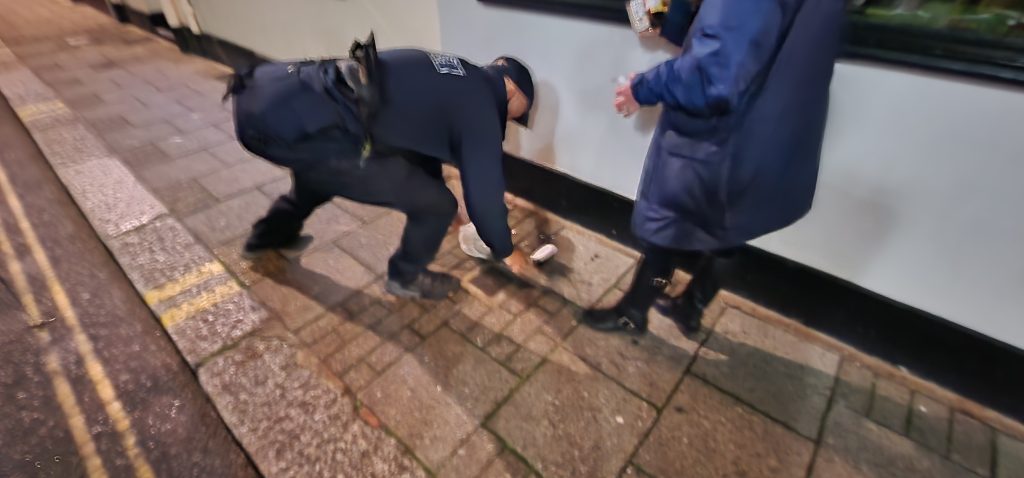 Along the way to St. Thomas Street, we came across an abundance of people who were thanking the Street Pastors for their continued support around Weymouth and for keeping everybody safe. Once we got to St. Thomas Street, the group were handing out KitKats to door staff outside venues and many of them stood and gave time to speak to many of the Street Pastors about different issues and spoke on friendly humorous levels which enlightened the mood on the patrol.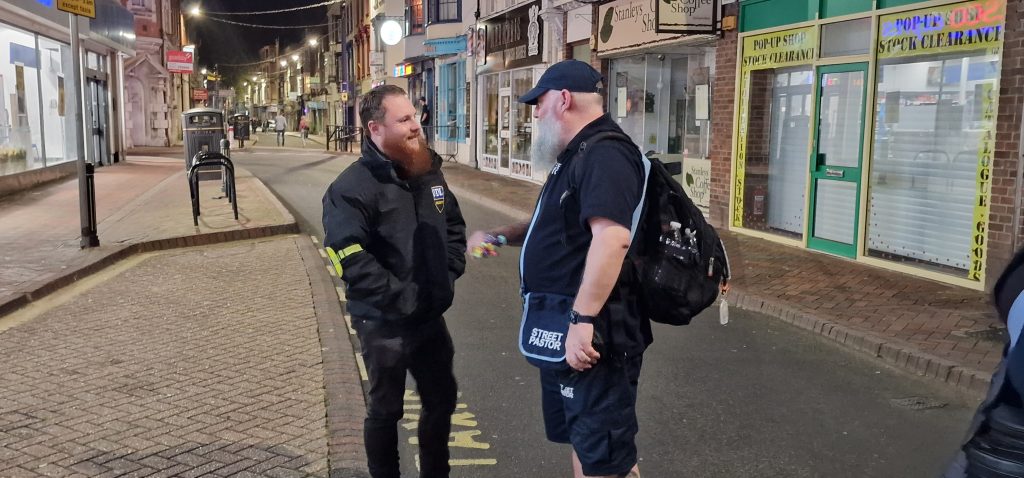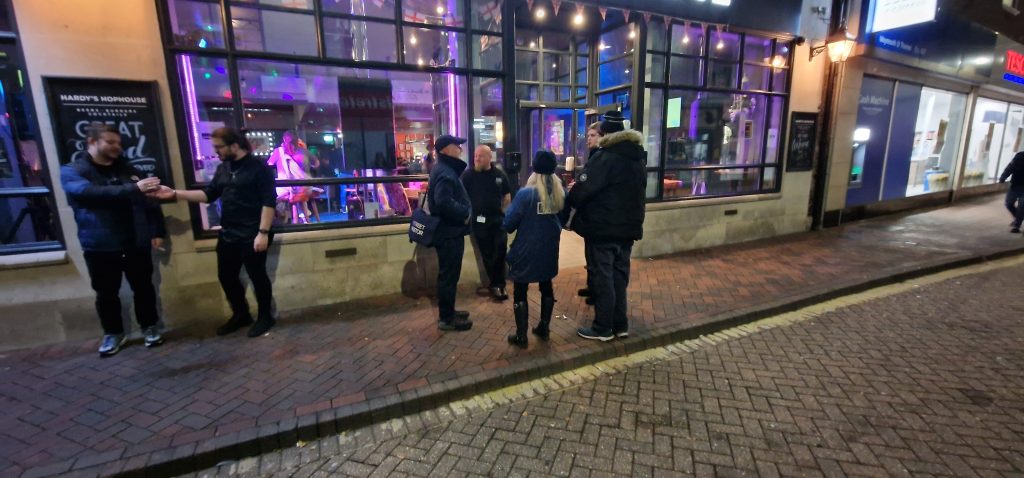 A little while after moving on from Hardy's Hophouse, Mr Reid said: " It is very important that we have a strong relationship with door staff because we need them if anything goes wrong, we've got them to rely on, and they rely on us aswell to assist with any drunk people that may be vulnerable"
We then went down towards the Nautico Lounge where we were met by a group of drinkers who all asked for a lollipop from the Street Pastors and were happily given one by the group with a lovely conversation about their night and thanking the Street Pastors for their hard work!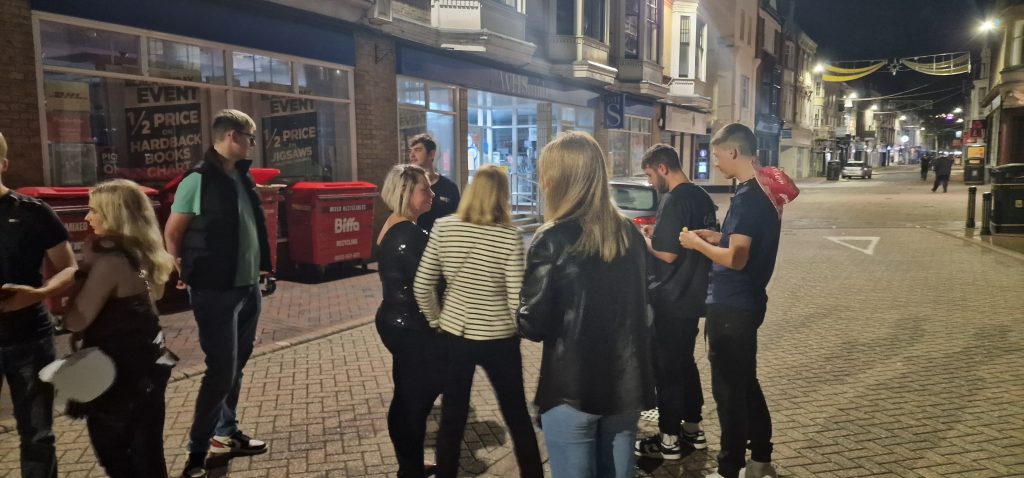 After encountering the group we made our way towards William Henry and noticed a group of youngsters who were acting in an anti-social manner, the group promptly exited the vicinity and were being monitored by charlie-4 (the town CCTV operator).
We then stopped off at Finns and spoke to door staff outside and the group handed them a KitKat which again was greatly appreciated by the door staff.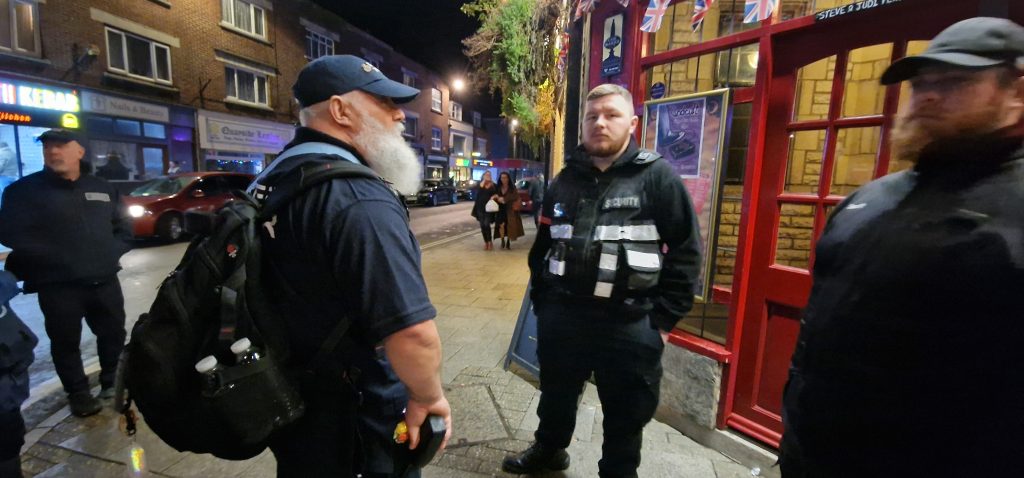 Next, we made our way onto the seafront to speak to door staff outside the Nook and KiKa bars and offered them Lollipops or KitKats and the Street Pastors asked about their night and if there had been any issues.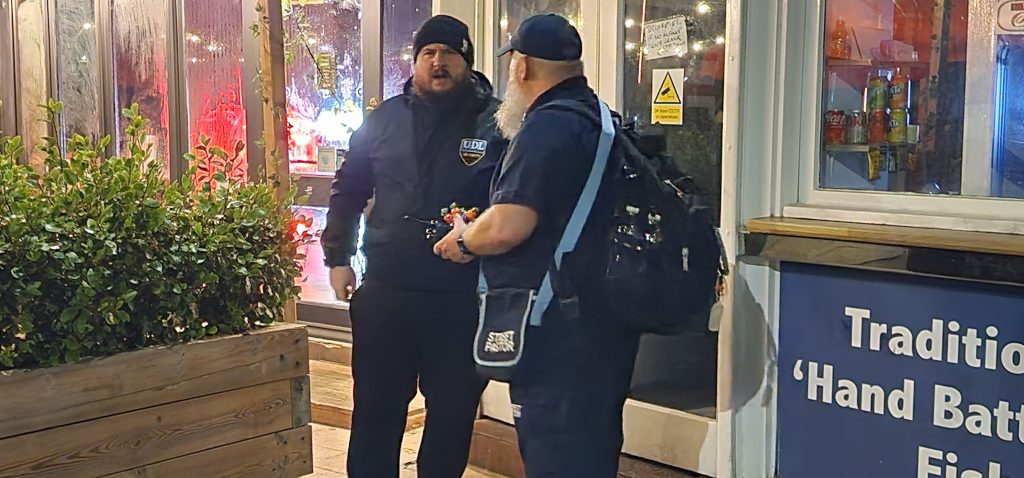 We then went on to visit the Chic Bar which was notorious for being Actors and closed for some time after anti-social behaviour spewed out onto the streets.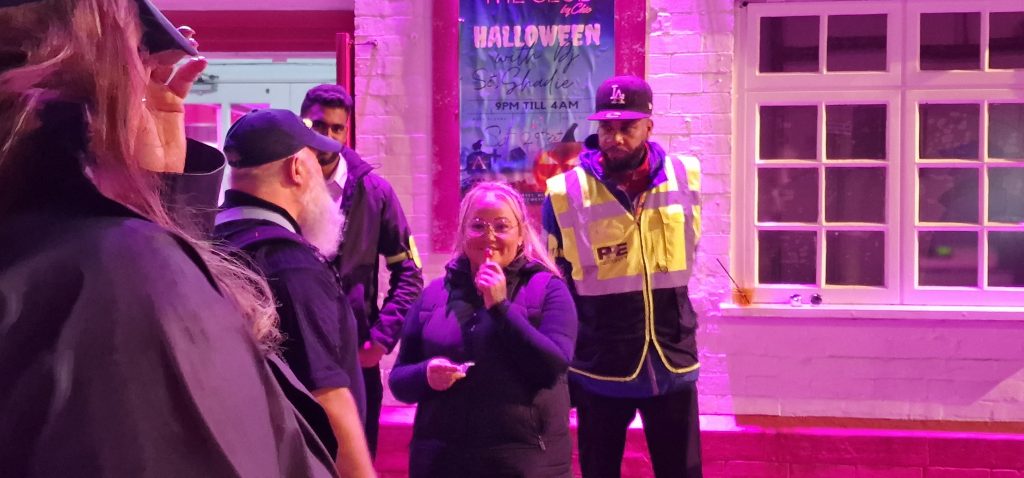 After a quiet first patrol, we went back into safe space which is located down St Mary's Street.
Once I arrived, Andrew said: " It's not usually this quiet but on almost every patrol, we do come across broken glass and it's always important that we sweep it up to protect everyone's feet because women are more than likely to take off their high heels and walk barefoot through the town centre because they'll experience uncomfort whilst walking between venues", in this sort of scenario he added" If we see anybody without shoes on we offer them a pair of flip-flops".
He went on to say: " We rely fully on donations and it costs us £600 a month to keep safe space running "
After about 20 minutes inside Safe Space a call came in on the radio for assistance at Finns over a male who is intoxicated, so we all swiftly made our way down to the scene.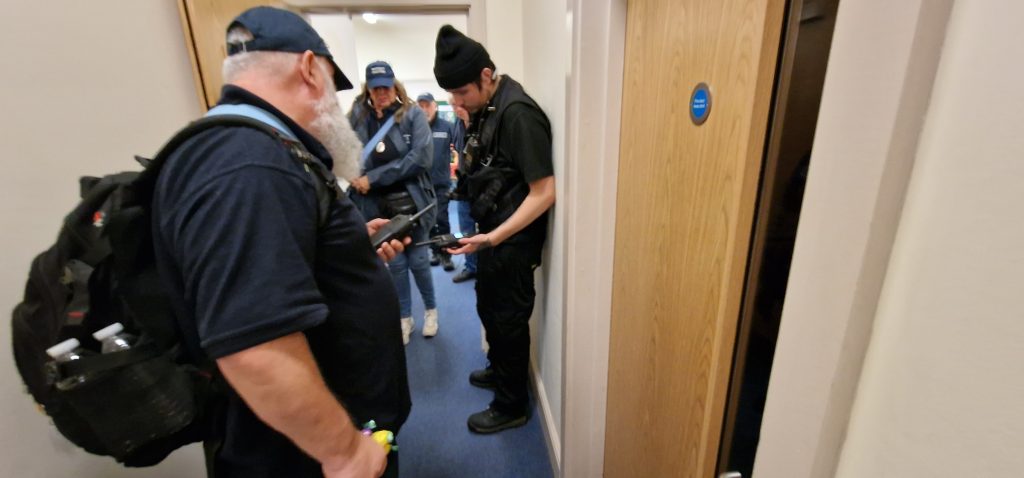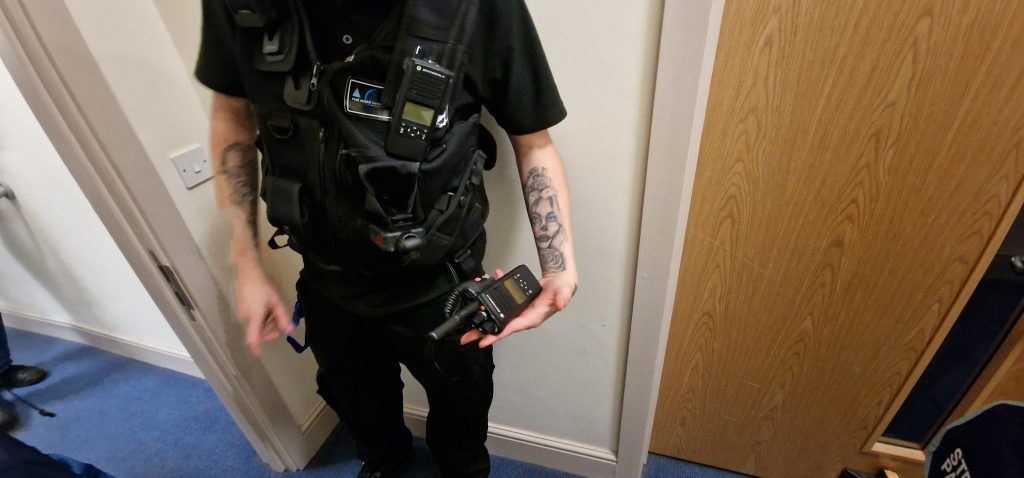 Along the way to Finns we came across a female not wearing shoes, so the Street Pastors gave her a pair of beautiful pink flip-flops to wear!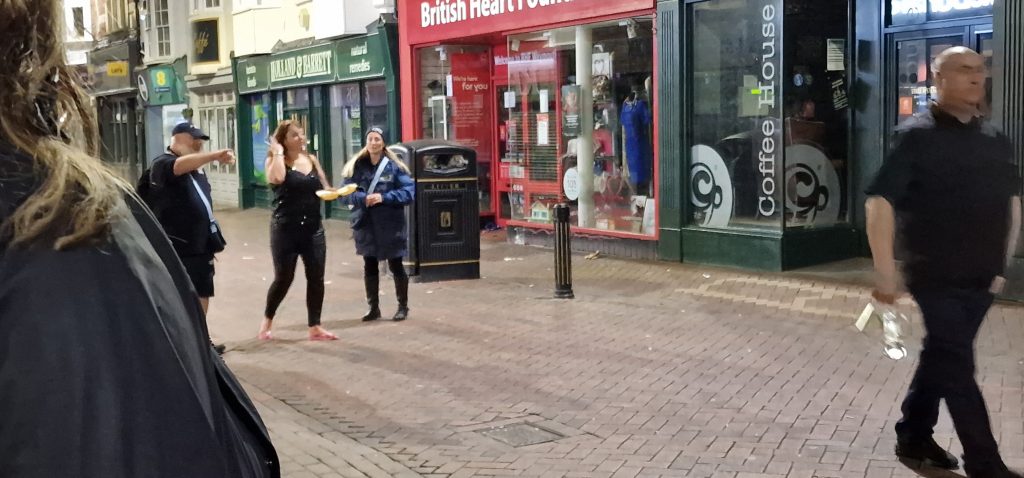 After dealing with the female the team noticed a lot of broken glass outside a nearby venue and promptly swept it up!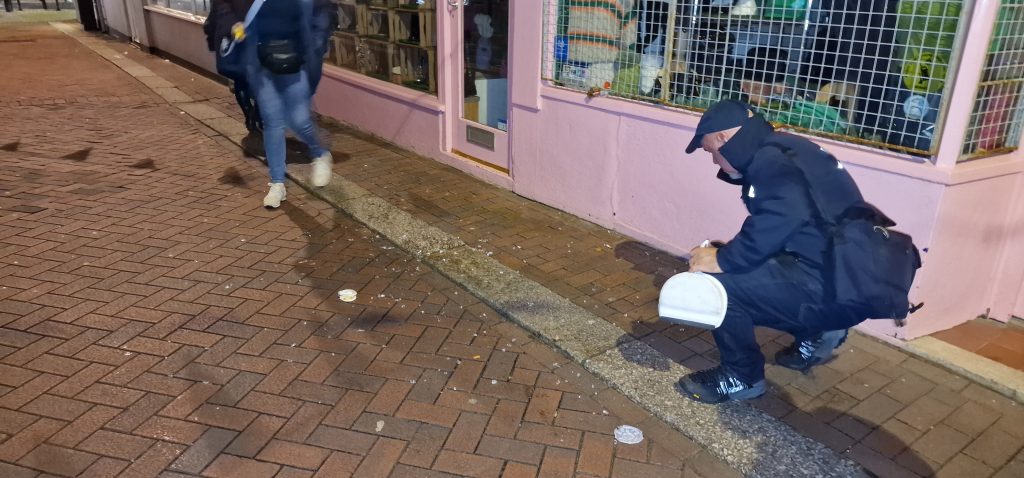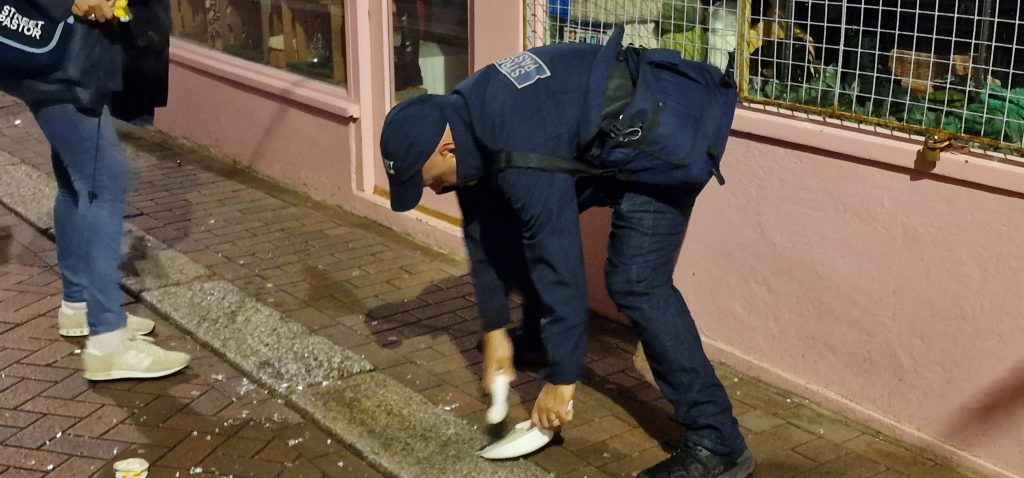 Next we worked our way down to Finns and continued handing out lollipops and KitKats to passers-by, once we got there we were met with even more glass skattered around the floor outside the William Henry pub and the team once again without hesitation swiftly swept up the glass!
Upon arrival at Finns down Westham Road, we were met by security staff who said that the male was picked up by his wife and was whisked away back home.
After this, we walked back towards the town and along the seafront to check upon any potential homeless people that may be in a vulnerable position but none were to be found. However, a man was seen in his car looking a little bit sloped in his seat and was asked if he was alright by the Street pastors, after the all-clear by the male, the team went towards Alexander Gardens to look for any anti-social or vulnerable people around the arcade complex, but all was quiet on the western front!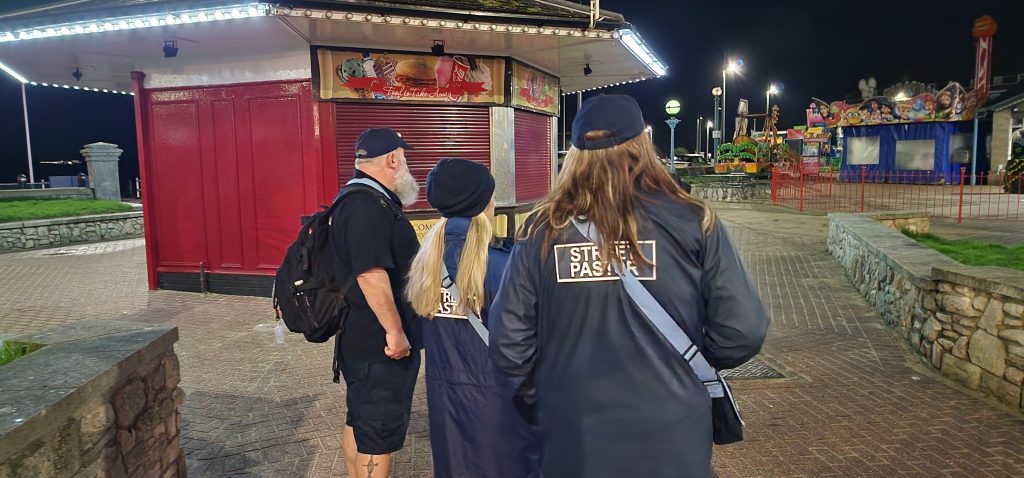 Next, we went down towards the Rendevous to reports of a male who was intoxicated and couldn't feel his ankle, whilst on scene another male went down to the floor and was helped up by a Street Pastor and his friends and was made sure he was safe before the team left him with his friends.
The other male needed a wheelchair because it was believed he had injured his achilles which is a tendon near the ankle, he was brought a wheelchair from Safe Space which was nearby to the venue, after which he was pushed away in the wheelchair by Street Pastors to Safe Space to get medical assistance by trained medics from acute medical.
I feel though without the Street Pastors Weymouth wouldn't be safe at all, It has been an incredible experience seeing what it is like to go out on patrol with them and seeing what challenges they can come face-to-face with on a typical Saturday night.