Safety at the King St / Esplanade junction is becoming increasingly concerning.
It is only a matter of time before somebody gets seriously injured or killed.
The previous Dorset County council removed the railings a couple of years back.
The railing helped to prevent pedestrians from being able to cross the road at the busy junction.
The railings were replaced by "not a crossing point" and "use subway" signs.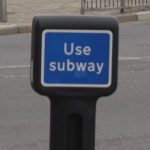 However, pedestrians just ignore the signs and continue to put themselves at risk.
There is no excuse. A subway at the junction and a pedestrian crossing exist 100 yards down the road on King Street.
A resident told us, " People are just stupid. I have seen some really close near misses. Its just a matter of time before someone gets injured or even killed."
The council needs to take action to ensure safety for all drivers, cyclists, and pedestrians who use the junction. The council must take action to reduce the risk of accidents and make the junction safer for everyone.