Today the 29th of October 2023, the Weymouth Streets Pastors marked a significant milestone in their unwavering commitment to the community as they came together to commemorate 15 years of selfless public service. The anniversary celebration, which took place in the heart of Weymouth at St Marys Church, was a testament to the group's enduring dedication to supporting and caring for their fellow citizens.
Since its inception in 2008, the Weymouth Streets Pastors have become an integral part of the community, offering a friendly and helping hand to those in need during the late hours of the night and the early hours of the morning.
Their mission has always been clear: to provide a reassuring presence, a listening ear, and practical assistance to individuals navigating the town's streets. Which now includes a Safe space at St Mary's Church.
The volunteers, affectionately known as "Street Pastors," usually patrol on Friday and Saturday nights from 10pm to 4am in Weymouth Town Centre.
Offering a wide range of services, including assistance to the vulnerable, medical support, and a calming influence during challenging situations.
The Street Pastors are a partnership of local churches working with the police, paramedics, local council and other statutory agencies.
The anniversary service included a short talk by Bejoy Pal CEO of Ascension Trust. A moving talk by Co-ordinator Andrew Reid.
The service also seen the commissioning of 5 new Street Pastors, from local church's around Weymouth.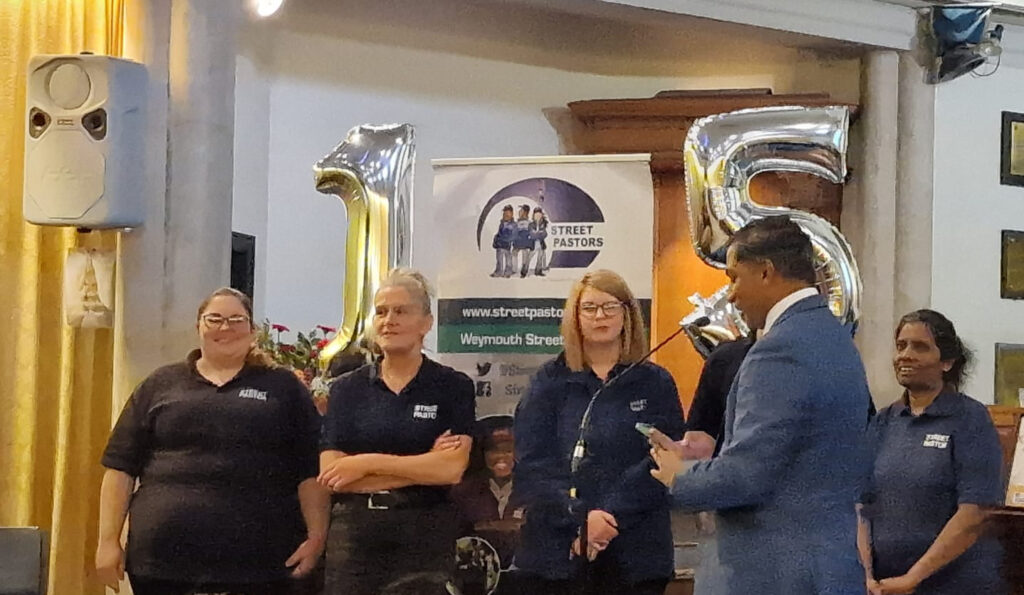 Street Pastor Brian Piper delivered an insight into the 15 years of dedication and service provided by this amazing organisation. By delivering a presentation "15 years Street Pastor Statistics"
Statistics included:
Over 120 volunteers in the past 15 Years
Number of shifts – 1,195
Number of volunteer hours – 27,922
Contacts with public – 7022
Gave Out
5,272 – Flip flops
7,243 – Bottles of Water
246 – Space Blankets
Approximately 120,000 Lollipops
Looking ahead, the Weymouth Streets Pastors remain committed to their mission of providing support, compassion, and care to those who require it most. Their unwavering dedication serves as an inspiring example of community service, and it is evident that the town of Weymouth holds them in the highest regard.
On this special day, the Weymouth Streets Pastors celebrate 15 years of making their town a safer and more compassionate place, reaffirming their commitment to serve the community for many years to come.
After the service refreshments were served. which included a delicious selection of sandwiches and cakes.